You're right on time !

Welcome to
Cottonwood Farms Rabbitry

Located in Southern California 1992-2003
Ken and Patty Kovell, Owners


OUR ENTIRE HERD IS NOW SOLD AND DISPERSED ALL OVER THE COUNTRY- I AM RECEIVING MANY REPORTS OF NEW LITTERS, MANY BY NAM, AND SOME WINS- PLEASE SEND PICTURES AND WE WILL FEATURE YOUR RABBITS ON THE MAIN PAGE OF COTTONWOOD FARMS WEB SITE- WHEN I AM ON THE ROAD IN OUR 5TH WHEEL I'LL TRY AND ADD MORE ARTICLES AND INFORMATION AND KEEP THE WEB SITE GOING AS AN INFORMATION AND MENTORING SITE.

2001 ARBA Convention Mini Rex Winners!!!

Hensley's Jo De
3rd place Sr. Broken Castor doe out of 60.



Cottonwood's Kash
Sr. Broken Castor Buck by Cottonwood Nash and Gan Kalensa
2nd Place out of 53
-Sire of Best 4 Class Buck, JB and BIS Buck York!!


Cottonwood's Harli
BOV Sr. Black Doe out of 73-
COTTONWOOD FARMS DOE LINES (WE WILL BE CHANGING THE FORMAT THIS MONTH- WITH PICTURES OF OUR PRODUCTION HERD BROKEN DOWN BY VARIETIES- THE BROKEN VARIETY WILL BE THE GAN LINE BROKENS, BROKEN CASTORS, AND BROKEN BLACKS, REDS, OPALS)

YEE WEE LINE GAN LINE
BLUE LINE BLACK LINE
"Cottonwood's Tempest"
by Jode and NAM 7/14/02

Cottonwood's LANA
4/10/02 by Gan Karston and Cottonwood's NIKI- won BOSB at the Recent Orland Show out of 130 mini rex


Proud Doe's Desire me
5/29/02

Proud Does' EBI
won BOSV her first show

Senior broken castor does
(L to R) GC Cottonwood's Moon, IBB's WHO, GC Cottonwood's Jackie, GC Hensley's JoDe, GC IBB's X2C- ask about babies from these does!

Junior broken castor does
(L to R)Avon, Fame, Cheyenne, Bambi, Sundance
THE PENCIL TEST OR HOW TO DETERMINE TYPE IN MINI REX
IF YOU LIKE THE CONDITION OF OUR ANIMALS PLEASE READ ABOUT
COTTONWOOD FARMS CONDITIONING MIX- HOW WE MAKE IT! COMPLETE RECIPE WITH PHOTO OF OUR BREW!
NEED MORE DOES? TOO MANY BUCK? OR VISA VERSA?
FOR MORE INFORMATION ON MOON PHASE BREEDING CLICK ON PHOTO ALBUMS TO SEE OUR DOES CONCEIVED ON THE NEW MOON AND REFER TO SPRING VALLEY'S MOON PHASE CHART. TRUST ME IT WORKS!
We're so very glad you came to visit
Please come again.
Site designed and maintained by
Island Gems Design
My ICQ Number is 68881159- and Bunnylady is my Handle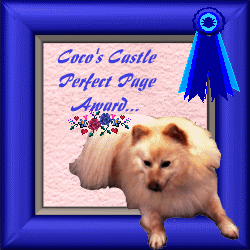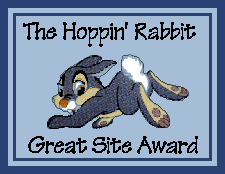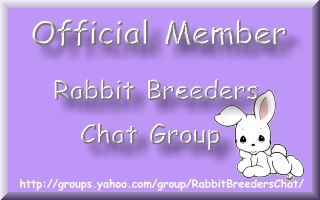 Thank You : )

RABBIT LINKS

Graphics on this site found at Alice Interactive & Disney